Bucks' Malcolm Brogdon: Draining Hoops on the Court, And Filling Them Off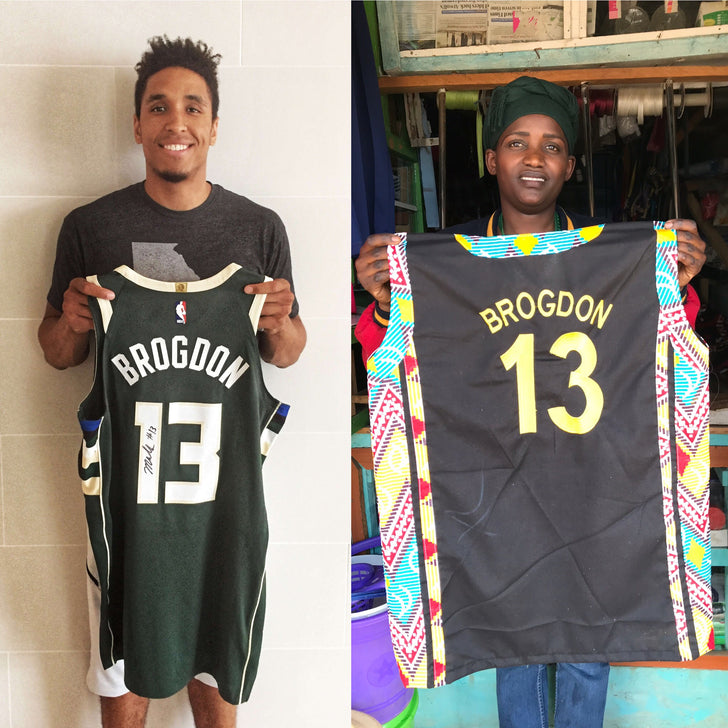 Underdogs United is extremely proud to partner with Milwaukee Bucks point guard Malcolm Brogdon for our Global Jersey Exchange initiative. Malcolm is not only a star on the court; he is also taking action to improve lives on a global scale and address the safe water crisis.
Malcolm founded the program Hoops2o, serving as the NBA side of its partnership with Waterboys, started by the Philadelphia Eagles' Chris Long and comprised of NFL players, under one shared goal: providing clean, accessible drinking water to communities in need. His determination to start the program stems from his childhood visits to Ghana and Malawi where he witnessed first-hand the hardships that unsafe drinking water has on the communities in these regions. Hoops2o's motto reads "Ballin' for Buckets Since 2018" and this adage has not gone unspoken. Malcolm's dedication on and off the court has already helped change lives in many communities in East Africa, raising $127,857 (and counting) since the start of the program. Malcolm's goal is to raise $225,000 to fund the development of five wells, each costing $45,000, to provide access to clean drinking water for at least 37,500 people in East African communities.
Brogdon has demonstrated that influential platforms can be used for a much greater purpose: helping those in need. In his interview below with Milwaukee Bucks' reporter Katie George, Malcolm asserts that "it's not just having money. It's not just knowing people and connections. It's having a voice and being able to say stuff and being able to do stuff publicly, and people pay attention. And that can be as loud or as quiet as you want it to be."
Malcolm does not stand alone in this mission. He has created a "Starting Five" team including himself, Minnesota Timberwolves' Anthony Tolliver, Memphis Grizzlies' Garrett Temple, Brooklyn Nets' Joe Harris, and Atlanta Hawks' Justin Anderson to help him "drain buckets on the court and fill them off it." Hoops2o's current standing of $127,857 is comprised of each player's commitment to the program's mission. This means that almost three wells can be built so far, providing safe drinking water in communities that need it the most.
However, these wells do not solely provide clean drinking water. Like Malcolm's use of his platform for a greater purpose, the installment of these wells extends beyond providing water to these communities. In East Africa, women typically bear the responsibility of retrieving water for their families. By minimizing the distance needed to obtain this water by just 15 minutes, the local girls' school attendance increases by 12%. Improved access to clean drinking water also allows for less time spent trying to figure out how the water will be retrieved, and more time spent generating income and agricultural opportunities for the region.
Malcolm does not plan to end his mission anytime soon, though. In an interview with USA Today he states, "For me, personally, I feel like that's my duty while I'm on this earth is to serve others and use my blessing to bless others. If I'm not doing that, I feel like I'm not serving my purpose. That's my goal, that's my passion and that's what I intend to do for the rest of my life."
All of the photos in this blog post are courtesy of Hoops2o. Want to learn more about how you can support Hoops2o? Visit Hoops2o's website.
Malcolm's signed, gameworn Bucks jersey is up for grabs here until Jan 28th. 100% of proceeds support safe drinking water for schools in rural Kenyan communities.
Share this