Steph Curry Swaps Jerseys With Kenyan Tailor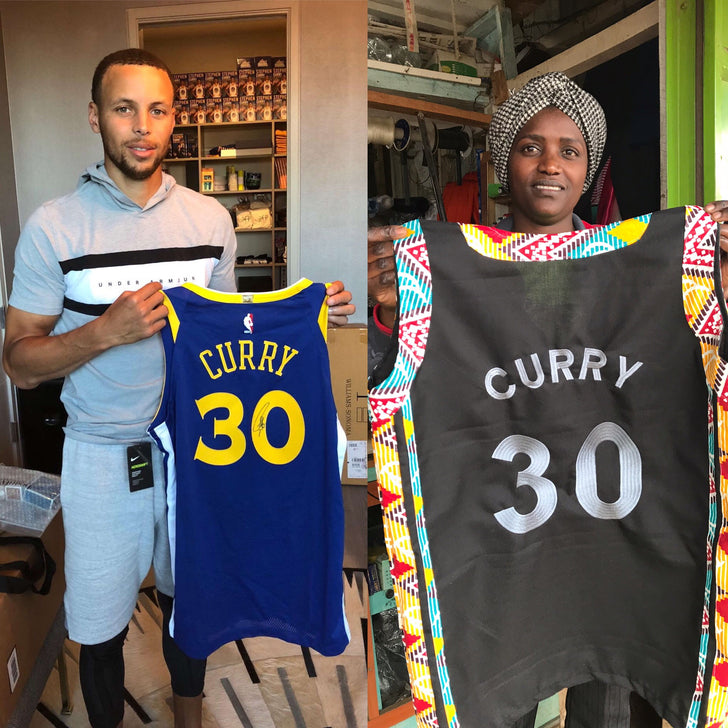 PHOTO BY STEPHEN GABAUER / UNDERDOGS UNITED
NBA star's jersey helps over 1,000 Kenyan children receive safe water
OAKLAND, CA - Mar 4, 2019 - Steph Curry has participated in jersey exchanges with his brother Seth, Miami Heat star Dwayne Wade, and even one of the best soccer players of all time, Lionel Messi. This week, he added another name to that list - Vindah Kanana. 
Kanana is a tailor in a small Kenyan community. The two found each other through Underdogs United, a start-up that raises funds for safe drinking water for children by collaborating with star athletes. Athletes' autographed jerseys are auctioned off by Underdogs United online to raise funds for clean water. In return, the athletes get custom-made jerseys from Kenyan tailors like Kanana, who hand-stitched a personalized Curry #30 jersey using colorful East African fabrics to thank Steph for his donation.
"I've been a tailor for many years, though I've never stitched a basketball jersey before," says Kanana, "The children, they know Stephen Curry and they love him. On behalf of our community, I would like to say 'thank you' to Curry and the other athletes for helping our schools with their water supply."
"The initiative is designed as a win-win for everyone involved," says Underdogs United Founder Stephen Gabauer. "Fans can win signed jerseys from their favorite athletes and support our clean water initiatives. The local Kenyan economy and the tailors are supported with above-market wages. And many of the athletes have told us that their personalized jersey is so meaningful, that they've framed it for display in their house. Most importantly, this program will leave a lasting impact on the health of over 10,000 children."

Underdogs United partners with Impact Water, another social enterprise based in Kenya to invest in water purification systems and maintenance programs for low-income elementary schools. Funds raised from Curry's jersey auction have been used to install new water systems, and four-years of preventative maintenance for the 950 students at Kiawaroga Primary School in Kamondo, Kenya, and the 916 students at Kahunira Primary School in Guthunguri, Kenya.
PHOTO BY EMILY WARD / IMPACT WATER
Other notable athletes participating in the initiative include Boston Celtics' All-Star point guard Kyrie Irving, US Women's National Soccer team captains Alex Morgan and Megan Rapinoe, FC-Bayern Munich star Rafinha, NHL All-Star Cam Atkinson, US Olympic snowboarder Arielle Gold, and more. These jersey auctions will be taking place over the coming months at gounderdogs.org.

To date, Underdogs United has funded water purification systems to impact over 9,000 children with safe drinking water. Through the Global Jersey Exchange and apparel sales, Underdogs United aims to impact 50,000 children with safe water by the end of the year.

If you would like more information about this story, please call Stephen Gabauer at 412-699-9966, or email stephen@underdogsunited.org.

ABOUT SAFE DRINKING WATER
Unsafe drinking water can transmit harmful bacteria, viruses and parasites, all contributing to waterborne illness and disease. United Nations Development Program (UNDP) reports that over 440 million school days are lost every year by children suffering from water-related illness, affecting education primarily in the developing world.

ABOUT THE SOLUTION
Underdogs United partners with Impact Water to implement Aquatab Flo technology, delivered, installed and maintained for four years. Each system is user-friendly, treats up to 180,000 liters of water and does not require electricity. The funds from the Global Jersey Exchange specifically target public schools in low-income rural areas that are unable to afford proper water filtration.
###
Share this